PLEASE NOTE: The Android instructions can vary depending on the Android OS flavor you are currently running.
Click on "Setting" for a list of available wireless networks and select the "eduroam" SSID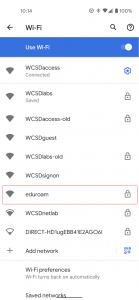 On the eduroam dialog box, select or verify that 1) "EAP method" is "PEAP"; 2) "Phase 2 authentication" is "MSCHAPV2"; 3) "Online Certificate Status" is "Request certificate status" and 4) "Domain" is "washk12.org."
Enter your LDAP login and password. "Identity" is your full WCSD email address. "Anonymous identity" is not in this environment.
Click "Connect."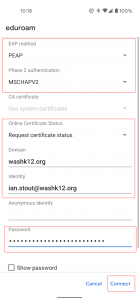 The dialog box displays that eduroam is connected.